Dinghy towing gives you the ability to take your freedom to the next level. With the right equipment, you can haul your car, truck, or SUVs behind your RV or motorhome using either a Dolly tow or flat tow. With flat-towing usually being the more inexpensive option when it comes to new equipment, many go this route. Choosing to flat tow? Here are the basic steps to flat towing your vehicle.
Flat Towing: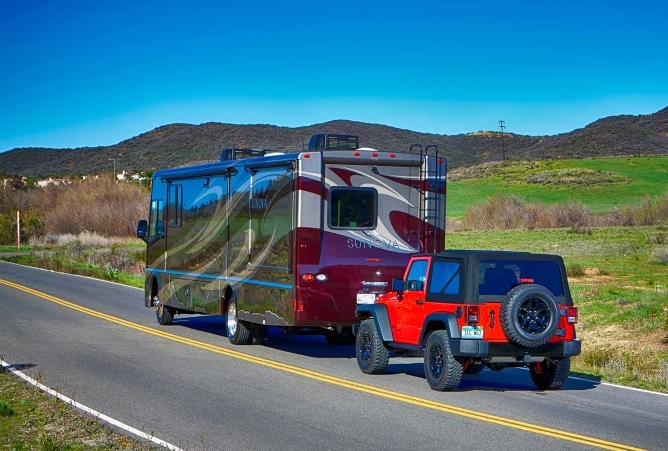 Choose your tow bar.
The tow bar is a bar that attached to the back of the RV using either a coupler for a trailer ball or standard receiver shank and has two extended arms that form a pivoting "V"-shape which attaches to the car (aka dinghy).
Find a tow bar base plate.
For this, you'll have to get a base plate that is compatible with your specific tow bar. The tow bar base plate is equipped with two receivers for the arms of the tow bar. Depending on the tow bar you chose, you may not have the need for a base plate as it would attach to the vehicle with bolt-on brackets.
RV Hitch & Adapter
To begin putting your tow together, you must have a receiver hitch on the rear of your RV or motorhome. To ensure a smooth tow, the receiving hitch height on your RV should be no greater than 3 inches than the height of the tow bar base.
Harness
For proper safety and law-abiding measures, it's important to make sure your vehicle is not only physically connected to your RV, but electrically connected as well. This will be done with a dinghy tow wiring harness. When shopping for one, look for your vehicle's make and model so it will properly connect to your taillights, signals and brake lights.
Other tips:
Doing this often? It may be best to invest in an auxiliary braking system, as your brakes are taking on more than just the weight of the RV – the vehicle's weight too.

Always looks at your vehicle and RV weight ratings. Find out your RV's Gross Combined Weight Rating (GCWR) as well as the Gross Vehicle Weight Rating (GVWR) – these tell you how much your chassis and engine can handle. The hitch itself will tell you how much weight it can handle. Knowing the weights and weight limits can make or break a solid tow.
Connect safety cables from your hitch loops to your base plate. In the event of disconnection, these prevent you from leaving your vehicle behind and creating a safety hazard on the road.
Need more assistance? Our awesome team at Speck Chrysler Jeep Dodge Ram can help you tow the distance!