Ram Truck Cab Sizes
The Ram Truck's Regular Cab is the smallest of the cab sizes, providing seating for up to three passengers in one row with a door on each side.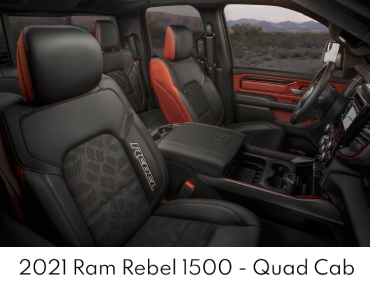 The Ram Truck's Quad Cab seats up to six passengers. Its configuration includes a rear bench seat. On the 2021 Ram 1500, the Quad Cab provides 35.6 inches of rear leg room. The Quad Cab is like an extended cab, but with an assurance of four doors.

The Ram Truck's Crew Cab seats up to six passengers with plenty of rear leg room measuring at 45.2 inches. Many buyers love the Crew Cab as it provides plenty of room for the family and doubles as a workhorse to get the job done.
The Ram Truck's Mega Cab provides the ultimate passenger experience with plenty of room for everyone, as well as an additional space behind the rear seats for cargo. The Mega Cab is found on the Heavy Duty 2021 Ram 2500 & 3500 truck models and seats up to six passengers. The rear leg room on the Mega Cab is 43.1 inches.
Shopping for a new Ram truck? Check out our Ram selection here at Speck Chrysler Jeep Dodge Ram of Sunnyside today!